Nicole Wisniewski & Wine for Wildlife
James Wisniewski's wife, Nicole, is set to do her part for wildlife preservation this Saturday, October 15th, at the Columbus Zoo. The annual Wine for Wildlife event not only brings recognition to the plight of endangered species, but also makes way for a vast amount of donations.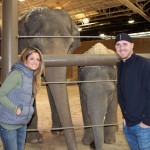 Avid animal lovers, Nicole and James Wisniewski never pass on a chance to lend their support. They are embracing the Columbus Zoo's conservation and sustainability work locally and in more than 70 countries around the world and look forward to attending this year's wine tasting, hors d'oeuvres, silent auction, dinner, entertainment and live auction.
Nicole takes the welfare of animals seriously and puts her best foot forward in every attempt to bring attention to the wildlife cause and the importance of protecting endangered species.
With a sold out venue, the 2011 Columbus Zoo's event is sure to help Save Wildlife.